Download Color Brochure (pdf)
Click here


View Bill's New Book,
The Well-Centered Home
Click here to visit the website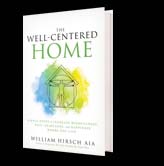 View Bill's Book, Designing
Your Perfect House
Click here to visit the website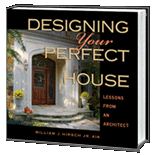 ---
A home should make the most of its terrain. By using octagonal shapes throughout this home, we were able to capture the fabulous views throughout.

Pearched on a high hil top, the sitting and landscaping of the house contribute to the feeling that this house belongs on the site.
>Return to Top
---
The detailed big wall atop a massive stone foundation gives this English Manor style home a look of permanence. The design challenge was to design an Old World structure that would sit comfortably on a beautiful site overlooking the golf course.

Because the home is approached from the left side, the design is punctuated by a chimney articulated by rotated and dileniated flues.
>Return to Top
---
Each residence is customized from the owners requirements, desires and dreams. Every home is an original. A cookie-cutter design could never equal the unique and personalized feeling of a "truly "custom designed" home.
>Return to Top
---
This house devides into two regions, the private master bedroom suite area and the social living area that includes the kitchen, living room and guest areas.

>Return to Top
---
Refinement and close attention to details bring this home an ambience of comfort and quality. The front terrace offers a beautiful distant view, while the rear veranda is focused on a uniquely designed water feature that utilizes a natural stone outcropping.

Luxurious moldings, specialty woods and a very special staircase contribute to the ambience. Notice the large bow-windowed breakfast room. It's my favorite place in the house.

>Return to Top
---
As if plucked from the French countryside, this home draws on the classic and timeless beauty of craftsmanship from a time long past. A sense of welcome is expressed by the angled wings. that embrace you like arms, as approach through the woods.

From the steep roofs with curved eaves, to the classic stonework, countless details enhanced the design.

>Return to Top
---
Country Estate with Gardens
This home artfully combines modern luxury with the charm of an Old World country manor. It was important to make the outside space became a part of the overall design. Elegant archways lead you to a walled garden as well as an attatched guest cottage. The glass conservatory juts out into the garden area which has a distant view of a lake. The owner's love of gardening became a focal point of the design, creating a graceful and comfortable living space.
>Return to Top
---
The opportunity to design a home in Hawaii was a welcome challenge. The Balinese style had to be adapted to the active lifestyle of a young family. Individual pavilions are connected by gardens so that the family can embrace the tropical climate. The inclusion of an ofuro, a traditional Japanese bath, also made this a truly unique design. The breathtaking view from the living spaces overlooks the infinity edge pool, which seems to join the ocean beyond.
>Return to Top
---