How to Select an Architect
http://www.aia.org/architect_finder/
Governors Club
http://www.governorsclub.com/
Download Color Brochure (pdf)
Click here


Get Bill's New Book!
Click here to visit the website!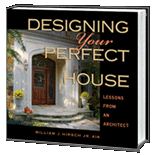 Award winning homes are the result of cooperation and coordination with all of the many players of the building process. As the Architect, Bill Hirsch works closely with the owner throughout the course of building by guiding and representing him throughout the project. The home design continues to evolve during construction, with the help of quality builders, close attention to details, and ongoing input from the owner.
>Return to Top
---
Unlike the thick inner volume of the pear head, this

cheap hair extensions

gives a feeling of warmth and beauty. When trimming, pay attention to the tail of the

real hair extensions

must be cut from high to low level, roll up and send it to have this effect. This hair style can be brushed out by a

hair extensions

dryer and a reel, and it is also possible to use no special hot.