Download Color Brochure (pdf)
Click here
View Bill's New Book,
The Well-Centered Home
Click here to visit the website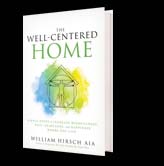 View Bill's Book, Designing
Your Perfect House
Click here to visit the website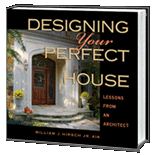 Registered Architect.
Over 40 years experience.
Extensive experience in custom residential design, as well as experience in commercial, office, religious, recreational and industrial buildings.
Certificate holder, NCARB.
Former Member of American Institute of Architects.
Past President, Delaware Society of Architects.
>Return to Top





Education:
Master of Architecture, University of Virginia.

Bachelor of Arts, George Mason University.
>Return to Top




Philosophy:

Design of a residence is a very personal and emotional process. I work with my clients as a team, developing a unique and appropriate home that reflects their tastes, needs and desires. Each home should express the personality of the owner, not the architect. The architect brings extensive experience and design skills to the process, but these abilities are best utilized through interaction with the clients. For this reason, there is no such thing as a "Hirsch House". Rather, I hope that there is such a thing as a "Hirsch Home Owner". This would be someone who has had an enjoyable experience in the design and construction of their home, feels that my services were valuable and now lives in a house that feels like "home".

>Return to Top




Fees:

Initial consultation to discuss the process, the type of house desired, walk and review the site and to discuss what services are appropriate is always free of charge and provided without obligation. I always work on a "fixed fee" basis and not a "percentage of construction cost" basis. This way you know the costs at the outset. You also know that if I recommend something that is more expensive, you will be assured that my recommendation is solely for your benefit and not influenced by an increase in my fees.
I customize my services to the needs of my clients, providing only the services that are needed and valuable to you.
Comprehensive Services - Starting from an initial meeting to develop a "program" list of requirements and desires, we would develop a house design from scratch. A Schematic design is created through several meetings. Sketches and possibly models are produced to define the design. Extensive plans and specifications are drawn to describe the work for the builder. I assist in the contract negotiations and selection of the builder. I make periodic visits and reports during the construction culminating in the final inspection of the house.

>Return to Top




More Information:

If you desire more information, please do not hesitate to contact me: