> About - William J. Hirsch
> Design Process
> Portfolio
> Awards
> Testimonials
> Contact Us


Get Bill's New Book!
Click here to visit the website!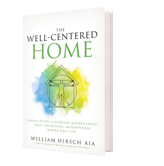 Design of a residence is a very personal and emotional process. I work with my clients as a team, developing a unique and appropriate home that reflects their tastes, needs and desires. Each home should reflect the personality of the owner, not the architect. The architect brings extensive experience and design skills to the process, but these abilities are best utilized through interaction with the clients. For this reason, there is no such thing as a "Hirsch House". Rather, I hope that there is such a thing as a "Hirsch Home Owner". This would be someone who has had an enjoyable experience in the design and construction of their home, feels that my services were valuable and now lives in a house that feels like "home".